November 04, 2020 Patch
Legends no longer get a blurred vision effect while in the gas. Damage updated from 4-10 ticks of damage to 6-12 ticks of damage.[note 2]
Surveillance Drone:

Fixed an issue with the drone being able to drop items from Crypto's inventory.
Fixed an issue with the drone not being able to fit through certain windows.
Fixed an issue with the drone marking friendly Mirage decoys as enemies.
Decoys now have 45 health.
Decoys now have flicker and play unique hit effects when hit.
Swift Mend: Doubled healing rate from 0.5 hp/s to 1.0 hp/s.[note 5]
Launch Pad: Fixed an issue with getting stuck in double jump after using a jump pad.
Fixed an issue with Octane being able to use healing items while on a zipline.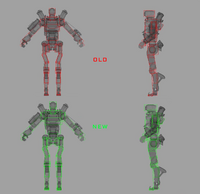 Made adjustments to Pathfinder's hitbox.[note 6]
Grappling Hook[note 7]:

Pathfinder no longer needs to be on the ground for the ability to be considered finished.
The speed to which Pathfinder needs to drop for us to consider the ability finished was increased from 300 units/second to 500 units/second
The maximum cooldown grapple can be set to was lowered to 30 seconds, from 35 seconds; the maximum amount of travel time before a new cooldown is set is now 5 seconds, rather than being uncapped. This means that effectively, you can never incur more than a 35 second cooldown.
The amount of distance you can travel before you hit maximum cooldown was roughly doubled.

Zipline Gun: Fixed an issue with ziplines going through platforms when deployed from underneath.
Emplaced Minigun "Sheila"[note 8]:

Now takes 1.25 seconds to fully spin up, down from 2 seconds.
Fixed an issue with Sheila teleporting when placed on a hatch in World's Edge Staging.

Amped Cover:

Now takes 3 seconds to fully build, down from 4 seconds.
Fixed an issue with not being able to place an amp wall while jumping.
Death Totem: Fixed an issue with Revenant getting pushed into geo when his totem was deployed in tight spaces.
Dimensional Rift: Fixed an issue with priming a grenade cancelling Wraith's ultimate.
Damage required to evolve Evo Shields were increased to reduce the amount of players with Red Evo Armor during the end game.
Damage to

White

: 100 damage (from 50)
Damage to

Blue

: 150 damage (from 125)
Damage to

Purple

: 300 damage (from 250)
Damage to

Red

: 750 damage (from 500)
Ring damage reduced
Ring 1: 2% per tick (same)
Ring 2: 3% per tick (from 5%)

Particularly this change should allow players enough time to pop a syringe if they are picked up in Ring 2.

Ring 3: 5% per tick (from 10%)
Rings 4 and 5: 10% per tick (from 20%)
Rings 6 and 7: 15% per tick (from 25%)
Returned to normal loot pool.
Damage reduced from 12 to 11.
Magazine sized adjusted to 20 /

22

/

24

/

27
Increasing horizontal recoil of the first 3 shots slightly to the right (first burst when in burst mode) and increasing recoil magnitude in the later stages of the pattern.
Reducing recoil multiplier in single fire mode to help compensate for additional recoil in pattern. Recoil should mostly be increased in burst mode rather than single fire mode
Reducing headshot multiplier from 2.0 to 1.75[note 12]
Updated recoil pattern. Kicks up, then right, then left, then up again.
New recoil pattern that kicks horizontally at first and then settles into a relatively consistent upward recoil. Players who feather the trigger will be able to keep the L-STAR in the good portion of the recoil pattern.
Venting time after letting go of the trigger has been reduced from 0.4s to 0.15s.
L-STAR will now reduce heat faster when not overheated -- 1.15s from 99.9% to 0% charge if not overheated, still 2.45s if overheated.
Energized Sentinel now has a pure damage increase, instead of bonus damage only vs shields.
Energized Sentinel base damage increased from 70 to 88
Fire rate decreased from 1.3 to 1.2.
Quickdraw Holster

hop-up added.

For the RE-45 Auto and the Wingman.
When equipped, the gun becomes quicker to raise and lower, takes less time to ADS, and has reduced hipfire spread (particularly when not actively moving). This should open up new opportunities to use the two weapons, especially in close-quarters combat.

Selectfire Receiver

hop-up removed.
We've made some advancements in footstep audio playing more reliably. We have more work being done that we'll continue to roll out as it gets completed.