Lost Treasures
Lost Treasures was a Collection Event for

Season 5 that ran from June 23, 2020 to July 7, 2020.
Map Room is a new location added to the game that replaces the Landing Pad's buildings, near the The Repulsor, in Kings Canyon. The most prominent characteristic of this new location is its large multi-faceted antenna structure.
Armed and Dangerous Evolved
[
edit
|
edit source
]
A modified version of the Armed and Dangerous game mode, Armed and Dangerous Evolved uses the same basic premise with two notable differences; the removal of Respawn Beacons from the map, and the removal of all

Body Shields tiers.
The only available armor will be
Evo Shields, with a new item, the Mobile Respawn Beacon, replacing the function of Respawn Beacons. This new item can be deployed anywhere, where it can then be used like a normal Respawn Beacon. Mobile Respawn Beacons will initially be limited to Armed and Dangerous Evolved, after which it will be available in all other game modes.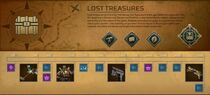 This event continued utilizing the Prize Track system, but this time, the maximum amount of points you can get was increased to 5000. All players who logged into the event also received the Lost Treasures Music Pack.
250 points: A Badge:

Lost Treasures

500 points: A Charm:

Metal Detector

750 points:

A Loba stat tracker:

Kills

XP Boost

1000 points: A Pathfinder skin:

Glistened

1250 points: A Loading Screen:

Lost Treasures

1500 points: A Lifeline stat tracker:

Kills

2000 points: A P2020 skin:

Null Hypothesis

2500 points: A Loba stat tracker:

Wins

3000 points: An

XP Boost

3500 points: A Lifeline stat tracker:

Wins

4000 points: A Loba stat tracker:

Damage dealt

5000 points:
Legend Skins
Weapon Skins
Weapon Charms
Badges
Loading Screen
Music Pack
The Lost Treasures Collection is a set of 24 cosmetics exclusive to the event. The collection cosmetics can be obtained by:
Purchasing event-exclusive Lost Treasures Packs for 700 which will give out one collection cosmetic and two cosmetics from the normal loot table
By direct purchase from the Store: 1,800 for

Legendary

items and 1,000 for

Epics
Completion of the Lost Treasures Collection allows the player to unlock Mirage's Heirloom Set before it is included in the normal Apex Packs loot table.
Legend Skins
Weapon Skins
Skydive Emotes
Weapon Charms
Banner Pose
The Special Offers tab introduces a new event page featuring 7 additional limited cosmetics. Each of these event limited skins and charms will have a special price of

500.
Legend Skins
Weapon Skins
Weapon Charms
Events
Preseason
Season 1
Season 2
Season 3
Season 4
Season 5

Lost Treasures

•

Summer of Plunder

•

Always Be Closing Evolved

Season 6
Season 7