Armageddon
"
Mad Maggie, a Salvonian freedom fighter and Fuse's oldest friend, has unleashed mayhem upon the Apex Games! She makes only one demand: THE LEGENDS MUST BRING HER FUSE'S OTHER ARM AS A TROPHY! Fuse, Lifeline, and Bloodhound team up to take her down – but will tensions within the group destroy them before they get the chance?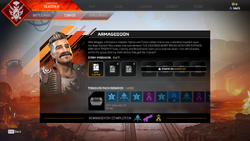 Armageddon is a quest in

Season 8.
Playing Duos, Trios, or Ranked Leagues, players can find
Treasure Packs in-game, once per day (players can also purchase all the available Treasure Packs for

25).
Every [...] Treasure Packs collected unlocks 2
Battle Pass Stars,
15, an
Apex Pack, an Epic Charm...(pattern needs to be verified and documented).
All of the rewards need a total of 60 Treasure Packs to unlock.
After all Story Pages are collected and read, the player gets three rewards: the Gold Rush Devotion LMG Skin, an
Apex Pack, and a Legendary Charm.
This quest's story is told through a comic divided into seven parts.
Transcript
"How can it be a bloody break-in if we haven't bloody broken anything?"
"That's all yuh thinking? This place's meant to be "hidden.""
"Yes. An... acquaintance frequented this place. I came to know it well."
"Heh, reckon we've all got a few "acquaintances"."
"We dealin' with yuh's, and that's plenty."
"Quiet please…"
"Look, Mags and I never-- if you've got a problem with--"
"Yuh bet I got a problem."
"I've seen whatcha do. Yuh play hero by blowin' stuff up."
"Quiet please."
"May fly on Salvo, but a real hero helps people. Yuh don't know nothin' 'bout that, do yuh?"
"Sigh... Allfather preserve us."
"Yuh coulda killed us!"
"I just saved us, mate. All without hurtin' the puppers, I might add."
"And if yuh missed… "mate"?"
"Picked up some bad habits in my time. Missing ain't one of 'em."
Maggie: "Kia ora, Fusey. She's been a bloody age."
"There Will Be No Armistice"
[
edit
|
edit source
]
Transcript
Maggie: "How was ya nana nap, mate?"
"Real restful, thanks. Thought I'd just pop by to drop off me arm."
Maggie: "Ya know, I was so sure your new "legend" mates would do that for ya."
Maggie: "Figured I'd scare 'em, they'd chop you, you'd get sad about it… and back to Salvo you'd scurry."
Maggie: "Salvo needs you, Walter. The Cause needs you."
"...Never was much for causes. That was your thing."
Maggie: "You will fall in line Walter, or the next time the Outlands tunes in to watch their Games? They'll see your friends screaming as I burn them. But hey, your call."
Cherisse (flashback): "Embrace me in front of the guests, or I will have the Frontier Corps brought up on charges that will bury them in the court system for decades."
"Walter Fitzroy…"
"You are not bound by Maggie's wrongdoings."
"Mags… you can take me arms, me legs, hell, you can take me other bloody eye if ya want it..."
"But ya don't get to tell me how to live me life."
Maggie: "You wanna stand with them, mate?"
Maggie: "Then you'll burn with 'em."
Trick Bomb

- With

Treasure Pack #

Knock Knock Bomb

- With

Treasure Pack #15
This is the first quest where the comics do not tie in with the

Treasure Pack

system.