Anniversary
Anniversary was a Collection Event for

Season 8 of Apex Legends that ran from February 09, 2021 to March 02, 2021.
Locked and Loaded Takeover
[
edit
|
edit source
]
Locked and Loaded is a takeover of the normal Play Apex game mode. All players start the game with a Mozambique Shotgun with a

Shotgun Bolt and a

1x HCOG "Classic". Players will also spawn with 2

Shield Cells, 2

Syringes, an
Evo Shield,

Helmet,

Knockdown Shield, and

Backpack. All other floor loot is only Rare tier and above. No Common items, except for 1x optics. The spawn rates of Care Package Weapons is higher in this game mode, and

Season 8 Fully Kitted Weapons also spawn in Care Packages in this mode.
These unique challenges are available during and after the event, for completion during the rest of

Season 8 (until May 04, 2021).
Badges
Charms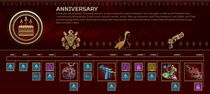 This event continued to utilize the Prize Track system, and the maximum amount of points you could've gotten was 5000. All players who logged in during the event also received three
Stat Trackers for Bangalore (Kills, Wins, and Damage Done) and the Anniversary
Badge.
250 points:

Apex Pack

500 points:

Apex Pack

750 points:
1000 points:
1250 points:
1500 points:
2000 points:
2500 points:
3000 points:
3500 points:
4000 points:
5000 points:
Weapon Skins
The Anniversary Collection is a set of 24 cosmetics exclusive to the event. The collection cosmetics can be obtained by:
Purchasing event-exclusive Anniversary packs for 700 which will give out one collection cosmetic and two cosmetics from the normal loot table.
By direct purchase from the Store: 1,800 for

Legendary

items and 1,000 for

Epics

.
Completion of the Anniversary Collection gives players

150 to choose an existing Heirloom of their choice, even if you have all the heirloom sets unlocked.
Legend skins
Weapon skins
Weapon Skins
This bundle costs

5,000.
Legend Skins
Event Packs
This bundle costs

2,500.
Legend Skins
Event Packs
This event marked the second anniversary of Apex Legends despite not being released on the actual anniversary of February 4th.
This event was accidentally released early, on February 2nd, but was patched out minutes later.
All of the collection skins are recolors of older event and Battle Pass skins, all following a red-and-black Apex Predators color theme.

The

Demon's Claw

M600 Spitfire skin is a recolor of the

Bone SAW

skin.

This event was the first event to get extended, as it got extended by a week, from February 23rd to March 2nd, 2021.
Events
Preseason
Season 1
Season 2
Season 3
Season 4
Season 5
Season 6
Season 7
Season 8

Anniversary

•

Chaos Theory

Bolded events are major events.